Game Review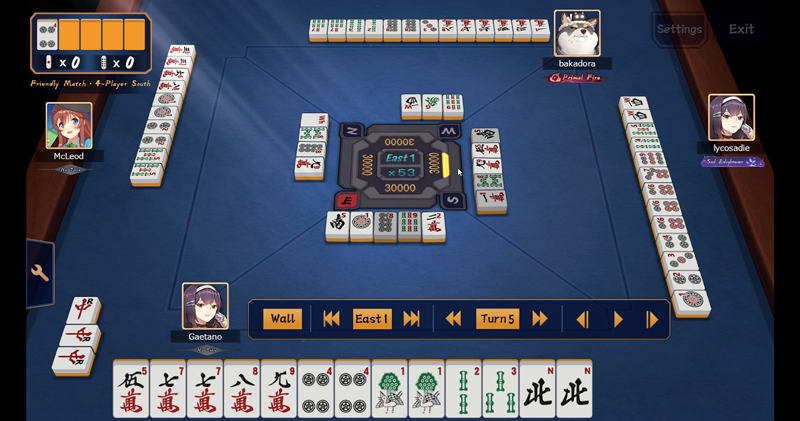 Up until this point, the hand moved on normally, and then there is this discard from South, which I feel is the first one to be a bit wasteful. After drawing 36s (which is the most likely way to tenpai) you end up with Riichi Nomi waiting on 8p (dora suji anyhow). Not the best wait or value. Instead of chasing Riichi Nomi head-on, keep this South, throw your souzu ryanmen and aim for Hon Itsu + Dora/Ittsuu/South - it is better value as you keep the chance for open mangan, while only giving up the chance of closed Riichi Nomi in exchange. It seems counterintuitive to throw ryanmen waits away, but when you gave realistic value in exchange it's alright.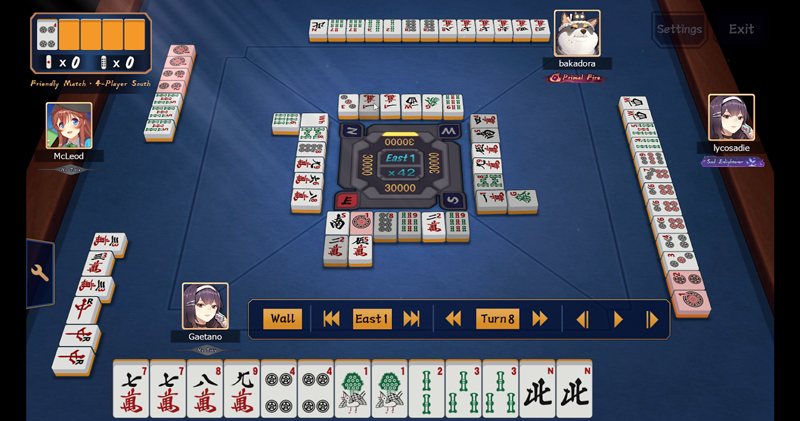 This 3p discard from West is also a mystery. North has already opened up twice and looking at the discards, he looks fast. It is not the time to throw a dora connector to him, while also denying yourself of using the Dora for yourself and other nearby tiles.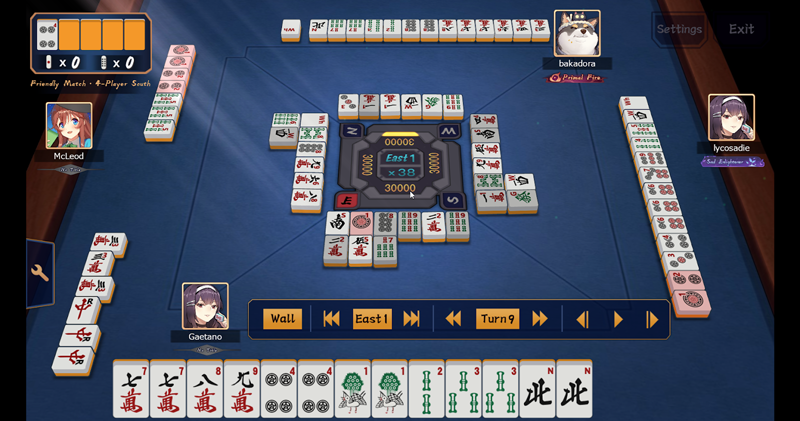 South Folds with West after drawing Haku - this is not good. Keep your 1 shanten, discard Haku as it is safe vs North; you can fold with your Wests later on.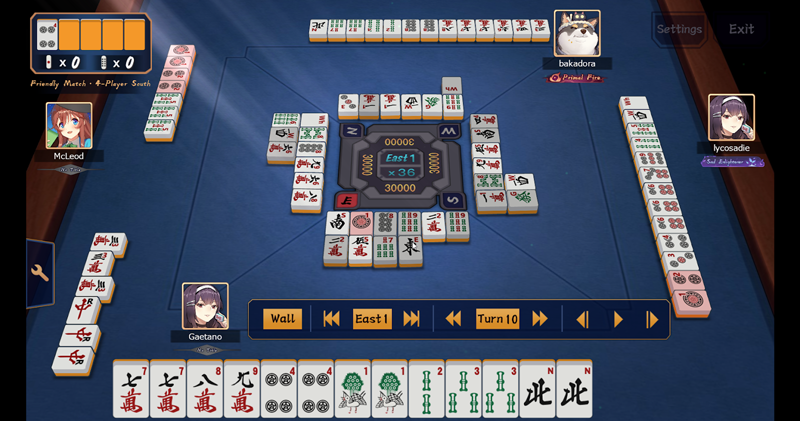 East is alive, and quite possibly Mangan if it hits vs North, while you are still 1 shanten of guaranteed poor shape (either shanpon or tanki). Even if you are dealer this is not a good investment. You can either do with 9m and keep Chii Toi Tsu 1 shanten, or go with 7m which is relatively safe and go for a mentsu hand, then check if you can discard this East later on once you've confirmed your tenpai. Whichever way you choose is okay, but this is East is a little bit too much too soon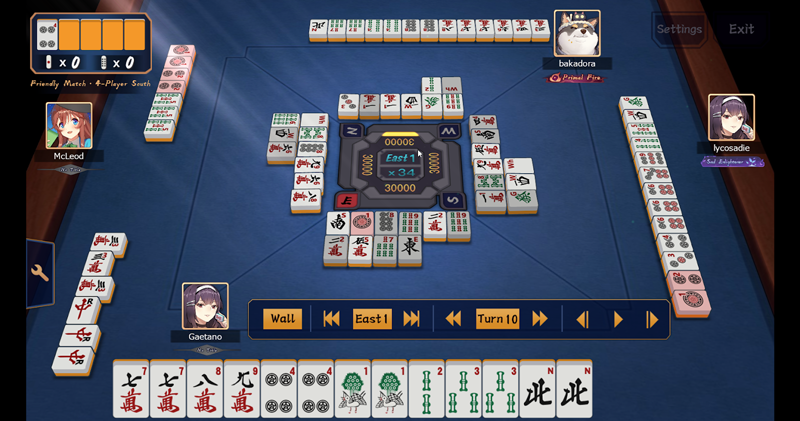 For the West player, bakadora, I don't understand why you insist on losing your hand useful tiles (in this case, denying 3s for 234) while discarding usually dangerous tiles vs North at the same time. Is there a reason?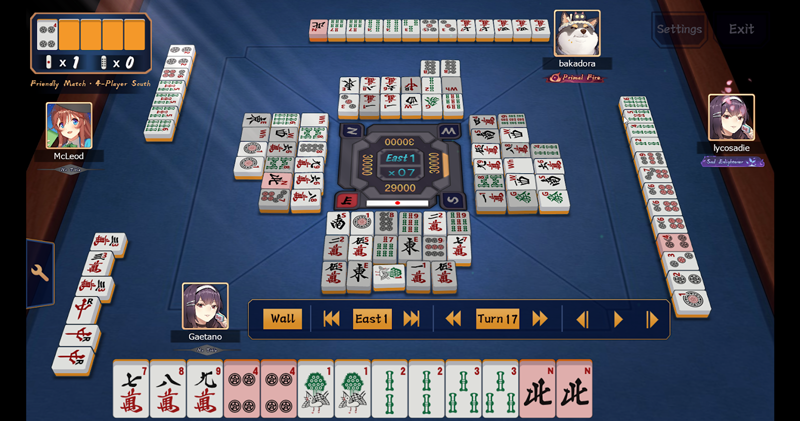 South's 4s discard here is outright a mistake. 1p is safe, 4s isn't safe (and I'm not going to count but just on plain sight I even dare to venture 1p even has a better chance for tenpai in the end). While 4s is not out on the board, even seeing 1 and 7 discarded doesn't make 4s a safe tile. In fact, it is fairly common to keep 135 from a 1357 shape, then when you get to tenpai with a 135 shape you get to choose if you want to wait on 4 or on 2. If the 5 you hold is red or if you have sanshoku, it is not rare to choose to wait on the 4 instead. Meaning, that you are even risking dealing into an expensive hand, for no reason.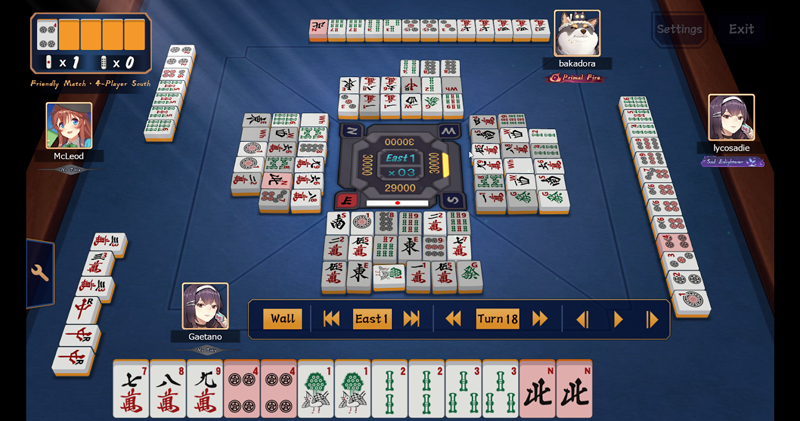 Again picking on South player, I'm sorry, but it's important: 2s is a dangerous tile, you have safe tiles, you are NOTEN meaning you cannot win points, and you have no draws left meaning you most likely cannot get tenpai (kamicha is haitei too so you don't even have a chance to chi). Please, choose your battles more wisely!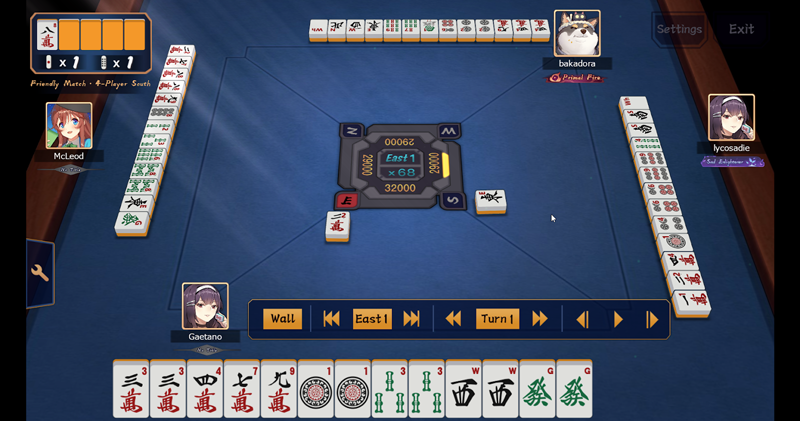 South player again, 1m and look at hon itsu at the beginning.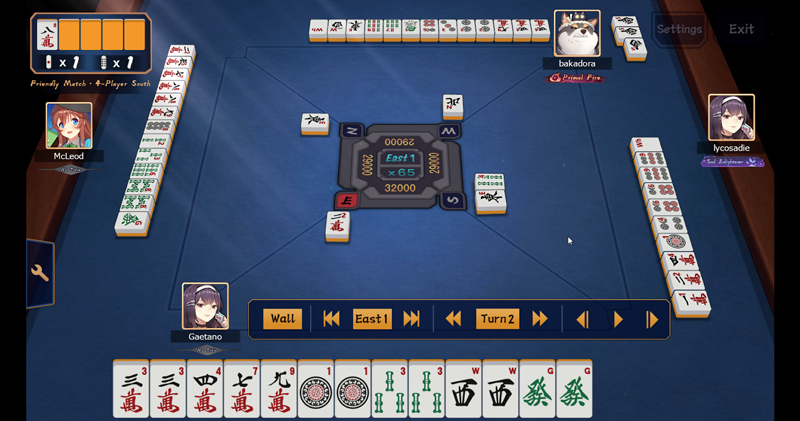 After calling Pon on South, still throw 1m and look at Hon Itsu or ryanmen around souzu.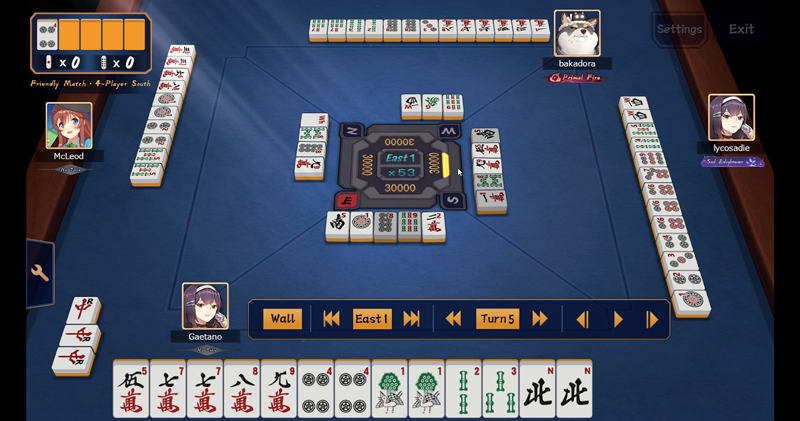 PIC 10 At this point I have zero idea what West is doing throwing away a pair of 2p instead of going for Chii Toi Tsu. I have no idea what he is going for…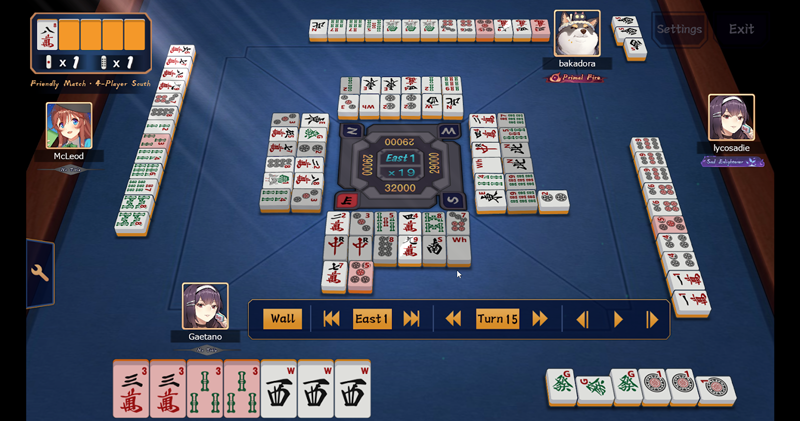 This 5p is unfortunate, but unavoidable. There is nothing to do here but discard it and be thankful South's hand didn't include Hon Itsu.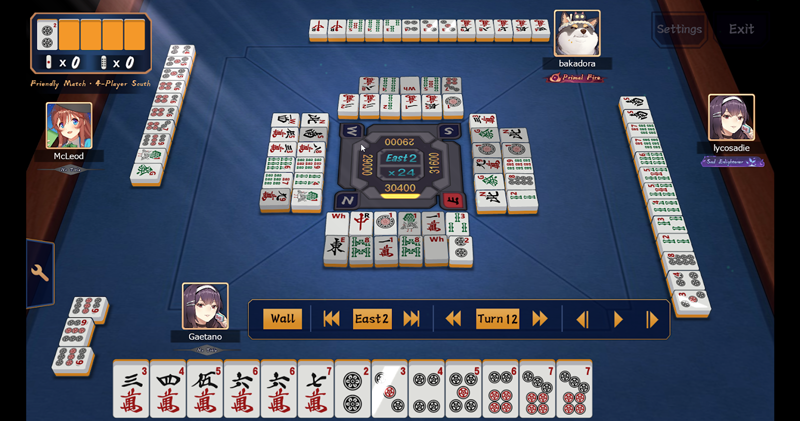 Long story short, the right discard is 7p. North's mistake here is actually an interesting one.
It is true that in a vacuum, 2p would normally be wider than 7p (by 4 tiles, 46 tiles to tenpai vs 42). However, in this case, there's some important factors to consider:
-Four 1p are already out, so the 147p wait isn't that appetizing, (even if 1p were alive, it also loses Tan Yao anyway)
-You are already furiten for 1p anyway so it's even less appealing.
-Discarding 7p allows you to get tenpai after drawing the dora (or even waiting on it if you have to) whereas discarding 2p does not give you tenpai after drawing the dora 3p.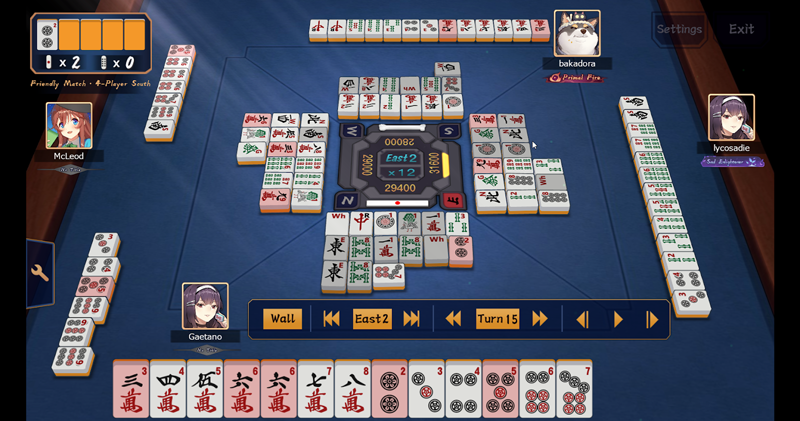 This is such a prime chance for East to Riichi, it feels almost like a sin not to.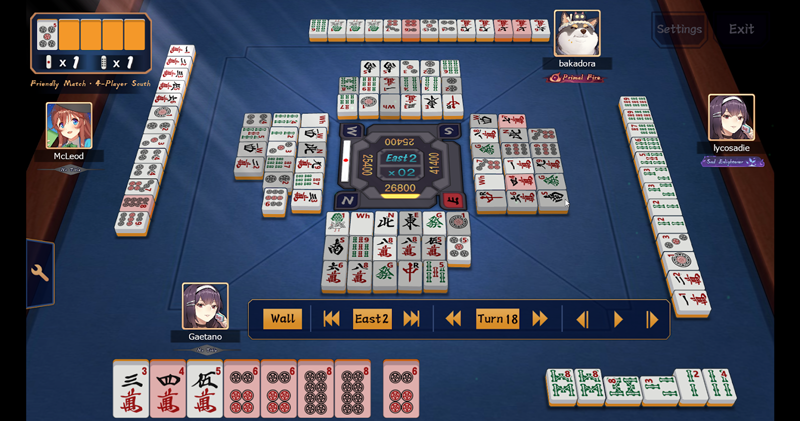 About this hand I've only to comment:
North: Perfect discard order, the decision making was very sound. Timing to call tiles, then choosing the wait (47p vs 68p don't change that much in winning % but the later has mangan chance, so it's a really good choice given the situation!) and also the push/pull judgment was on point (it probably wasn't easy to push ippatsu vs that riichi but it's the correct choice!)
East: A mahjong proverb I heard, "fixating from the beginning on 123 or 789 sanshoku is setting yourself up for failure"
South: I still don't know where you are directing your hands in the early game. Try some tenari or Tile Efficiency exercises, and aim to see how much you can improve your average Riichi turn.
West: Alright discard order, good Riichi.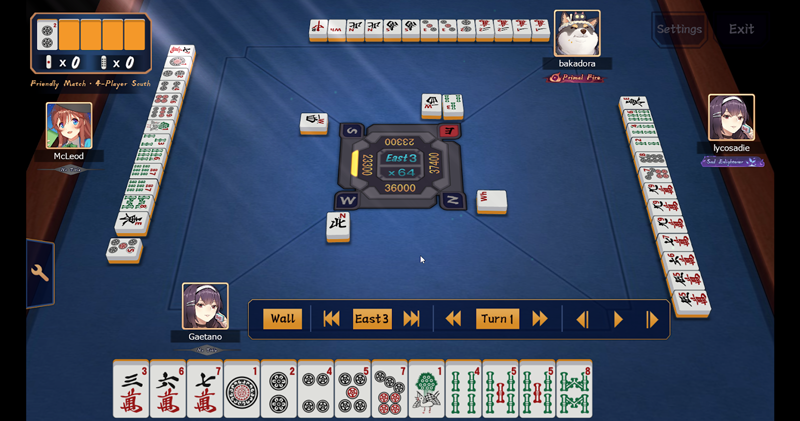 East: Chii Toi 1 shanten at the moment. Of course you will go for toitoi because most of your pairs are easy to call and you have a dora pair too, BUT at this point you are Chii Toi 1 shanten so I'd keep West instead of the dora indicator 2p.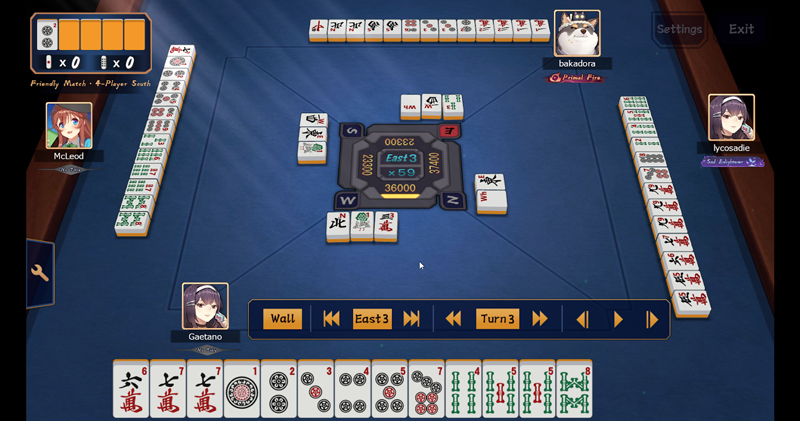 3m is a better tile to keep than 8s; with 455s 8s is redundant, and I'd still look at 345 sanshoku far in the distance, along mentanpin.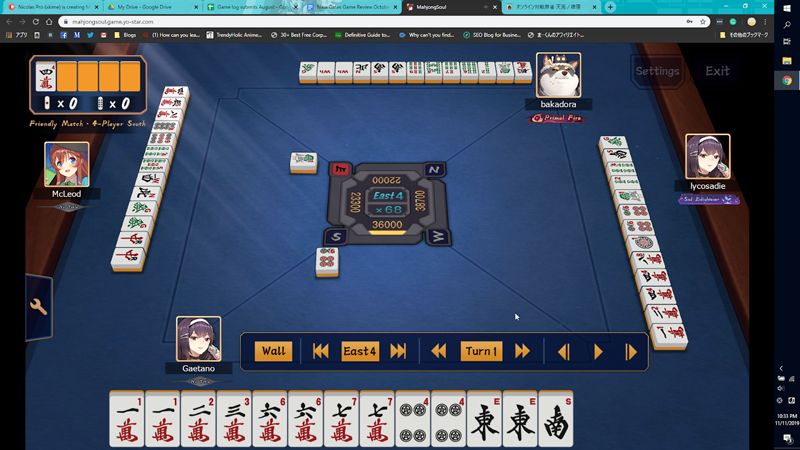 Beautiful 6p discard! Looking at value, denying bad shape Riichi Nomi order. Good!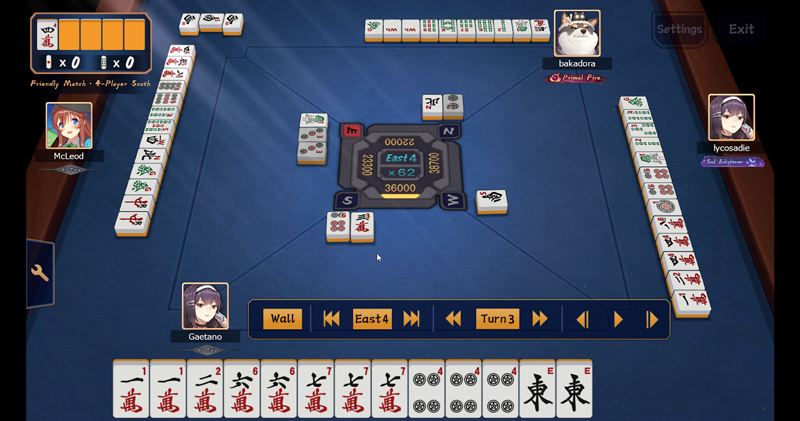 Nice 3m! This is only playable because it's very early on and you have no dora - excellent sense of avoiding Riichi Nomi.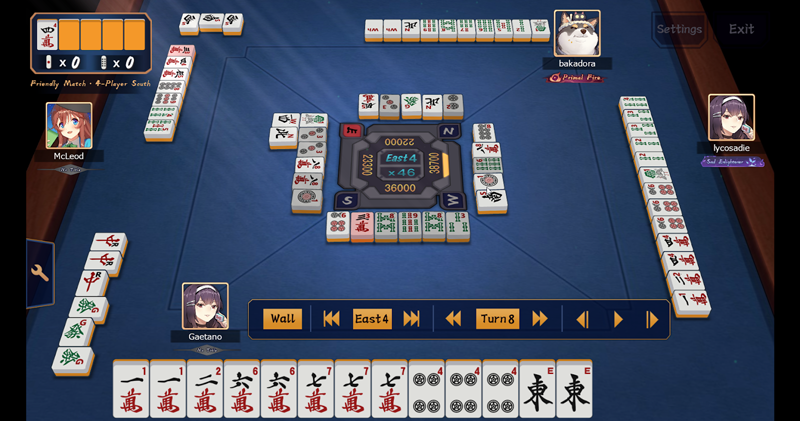 Everyone, all four, were doing very well! Up until the point West decides to play a riichi nomi worst shape vs Hatsu pon Chun pon without seeing the Haku anywhere. While in the lead! This is the easiest way to throw leads away.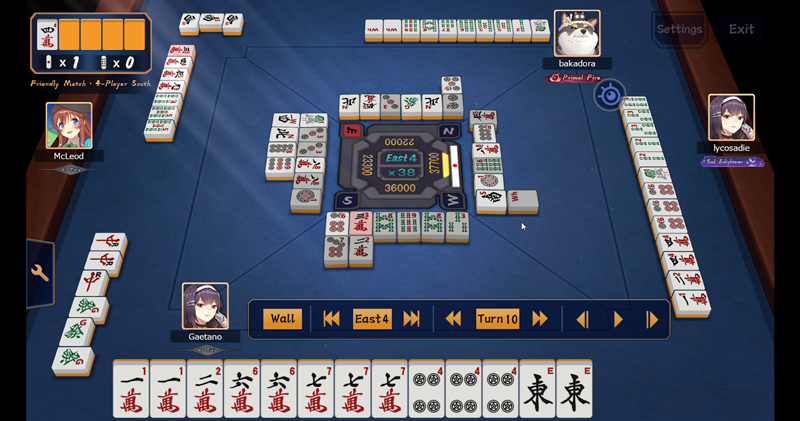 I want to ask North why he wouldn't take Haku pon for tenpai safely (discard 6s). I mean, there is a strategical meaning behind not showing everybody where all the Haku are, but I would like to know what he was considering…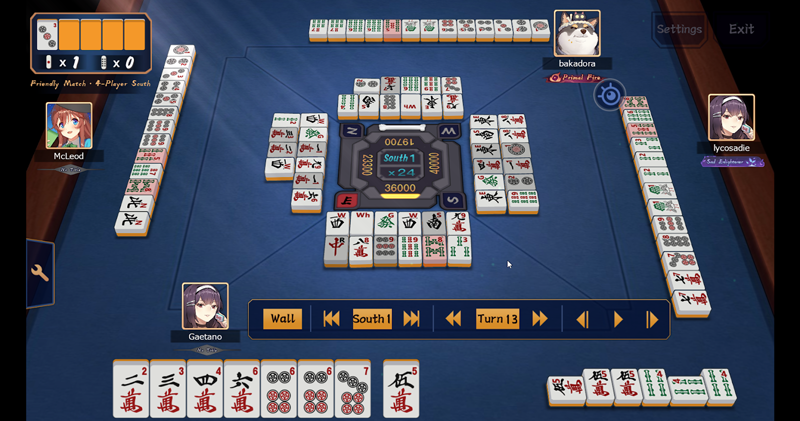 The thing you want the least to happen while you are making calls this desperate without any dora: someone else calls Riichi while you're still not even tenpai - however you draw 5m! Best timing! So you can discard 7p to have a great 147m wait (tho you can't win on 1, they are mostly out anyway). 7m is blocked so it could be likely to get a quick win and cancel that Riichi and…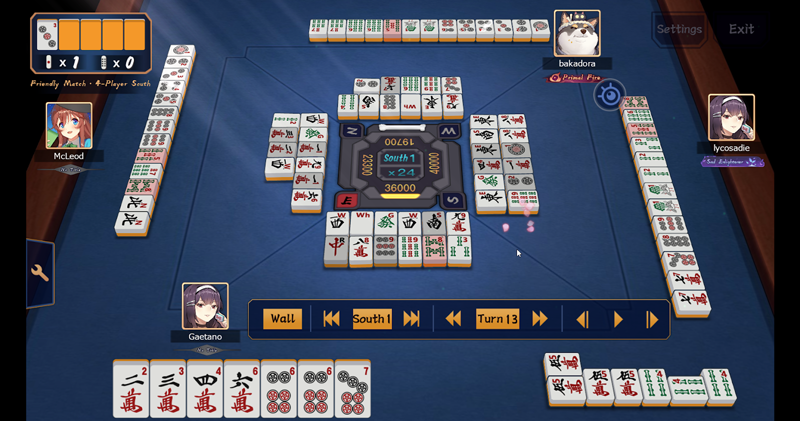 Why do you kan!?
The possibility of chankan aside, you break up tenpai, draw from the wall perhaps a reasonably dangerous tile, and also increase West's likelihood to get more dora.
I don't see many bad plays from you but this one is a little bit off the wall. It's pretty crazy.
This is an odd time for discarding Yakuhai dora. I think 5s is alright here, but perhaps you were scared you couldn't hold onto it much longer. However, you probably have the most interest in piling it up at this point.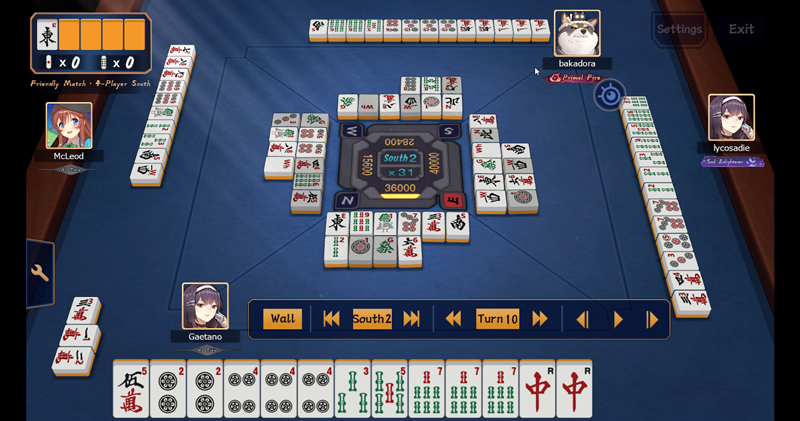 When comparing 47m and 4s you preferred 4s. Why….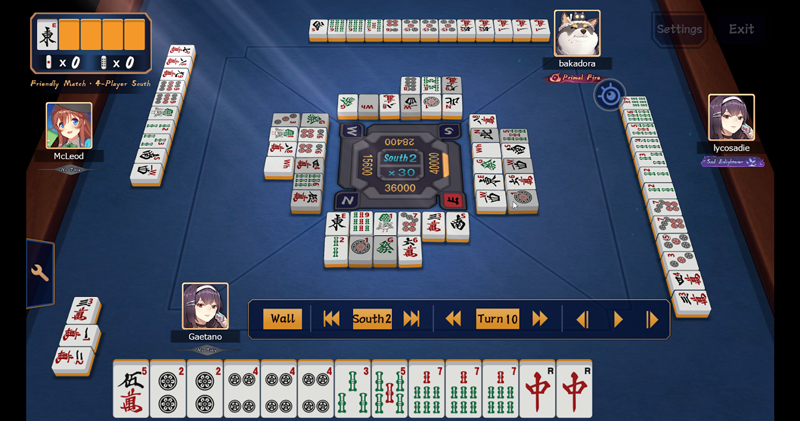 East throws away 345 Sanshoku chance. When he could either discard 2s (same 1shanten, +sanshoku chance) or 7p (wider 1shanten + sanshoku chance). Not good.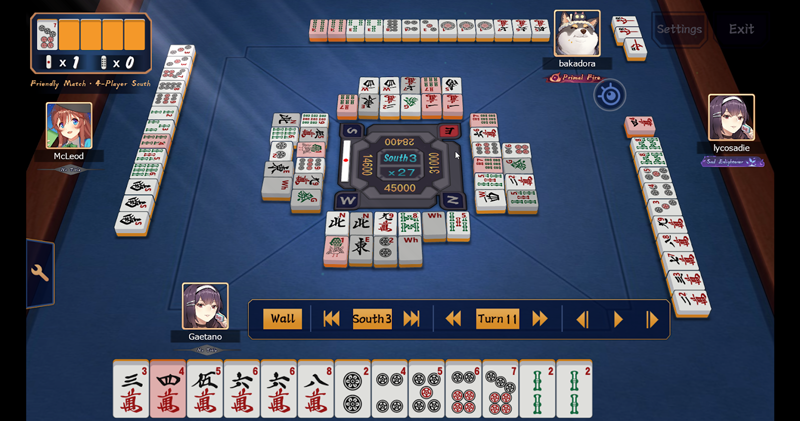 Everyone did alright this hand and anyone could have won it really. Nothing serious to point out here. Just reassuring: Furiten riichi isn't bad. The fact you're furiten is, but furiten riichi has a better winning chance than furiten dama. Always. Don't mind it!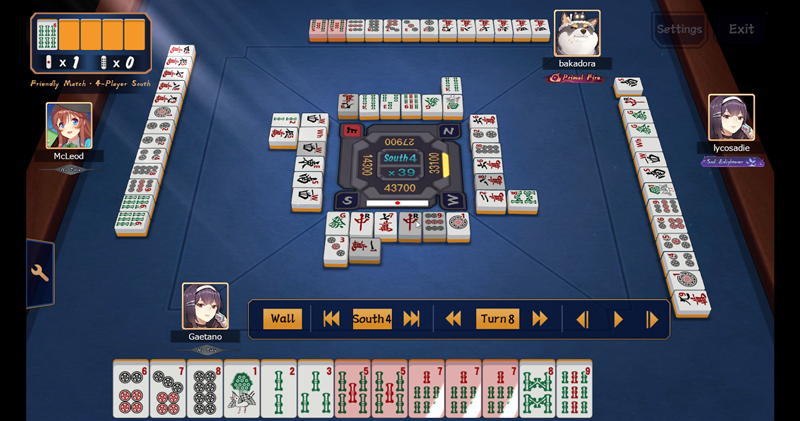 You only have to win the hand to win the game, so I'd have probably kept the 2p wait earlier on, getting rid of 5s instead. In the end you have a very difficult shape to win, throwing a Riichi stick on top of it, possibly giving away your 1st place when (not if, but when) you get counterattacked. Tsumogiri-riichi is almost always never correct anyway.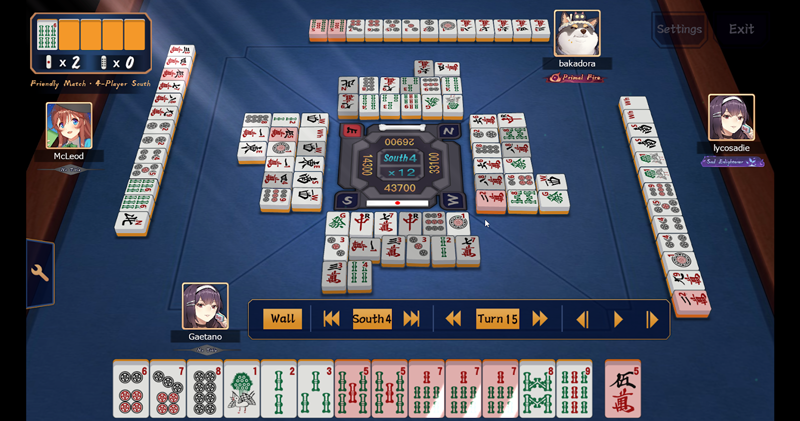 This time this was just a light, 2k deal in to North, but it could just as well have easily been 12k into the dealer. Once you are already 1st with some distance, shape and likelihood to win is much more important than value.
That was an interested match in the sense that I could see everyone's very well marked different playing styles and habits.
For Gaetano, I recommend not straying too much into crazy reads or gambles - your fundamental play is very good, so that at this point it will give you a much better return to just not make any mistakes, not giving other people chances.
For Lycosadie, I recommend to stop playing around the edges. Shapes like 124, 689, they are not good. Also Sanshoku around the edges or chanta hands aren't so good; instead look more at Hon Itsu hands.
For Bakadora, you have a good discard order when you want to, but sometimes in the early game you start with odd discards. There is no need to be odd, or to discard middle tiles so early on - follow a natural discard order and you will get to tenpai earlier and join more fights.
For McLeod, a very good general sense… in general. I'd like to see you be more proactive and Riichi more, push a little more.
Thank you for your support and I hope this is helpful! It took a long time to review, so I'm sorry for the wait. If you have any followup questions, please let me know!
Good luck in your league games!
Recent Star Player

Claire P
Riichi Nomi NYC
+89.4 :: Mar 23, 2020
Current League Standings
League Games
NYC vs. Toronto vs. Philly vs. NYC
MahjongSoul
Mar 31, 2020
NYC (+37.0)
NYC vs. Guest vs. GCRM vs. RMC
MahjongSoul
Mar 31, 2020
NYC (+47.4)
NYC vs. Toronto vs. Philly vs. NYC
MahjongSoul
Mar 31, 2020
NYC (+43.1)
SEMI vs. Philly vs. NYC vs. COR
MahjongSoul
Mar 31, 2020
SEMI (+52.1)
RIT vs. ARMC vs. Guest vs. NYC
MahjongSoul
Mar 31, 2020
RIT (+51.0)
COR vs. NYC vs. Guest vs. NYC
MahjongSoul
Mar 31, 2020
Guest (+43.8)
SEMI vs. NYC vs. NYC vs. Philly
MahjongSoul
Mar 31, 2020
SEMI (+42.9)
ARMC vs. RIT vs. NYC vs. Toronto
MahjongSoul
Mar 31, 2020
Toronto (+41.0)
NYC vs. SEMI vs. PAN vs. RMC
MahjongSoul
Mar 30, 2020
NYC (+33.5)
PAN vs. NYC vs. PAN vs. NYC
MahjongSoul
Mar 30, 2020
PAN (+42.8)
Guest vs. Toronto vs. SEMI vs. Philly
MahjongSoul
Mar 30, 2020
Guest (+54.4)
PAN vs. SEMI vs. NYC vs. GCRM
MahjongSoul
Mar 30, 2020
PAN (+46.3)
NYC vs. NYC vs. Philly vs. IBL
MahjongSoul
Mar 30, 2020
IBL (+54.0)
Toronto vs. NYC vs. Hammergirl vs. NYC
MahjongSoul
Mar 30, 2020
Toronto (+56.5)
RMC vs. NYC vs. NYC vs. NYC
MahjongSoul
Mar 30, 2020
RMC (+36.8)
NYC vs. Toronto vs. NYC vs. NYC
MahjongSoul
Mar 30, 2020
NYC (+47.3)
GCRM vs. NYC vs. NYC vs. Guest
MahjongSoul
Mar 30, 2020
GCRM (+43.0)
GCRM vs. Toronto vs. Philly vs. Philly
MahjongSoul
Mar 29, 2020
GCRM (+38.5)
Hammergirl vs. Toronto vs. NYC vs. Philly
MahjongSoul
Mar 29, 2020
Toronto (+68.2)
Philly vs. NYC vs. Toronto vs. IBL
MahjongSoul
Mar 29, 2020
Philly (+37.0)
NYC vs. Toronto vs. Philly vs. IBL
MahjongSoul
Mar 29, 2020
IBL (+43.6)
NYC vs. Philly vs. Toronto vs. COR
MahjongSoul
Mar 29, 2020
NYC (+48.4)
COR vs. Toronto vs. PAN vs. NYC
MahjongSoul
Mar 29, 2020
Toronto (+45.5)
Philly vs. PAN vs. Hammergirl vs. NYC
MahjongSoul
Mar 29, 2020
Philly (+57.0)
NYC vs. Hammergirl vs. PAN vs. IBL
MahjongSoul
Mar 29, 2020
IBL (+39.1)
NYC vs. PAN vs. NYC vs. Hammergirl
MahjongSoul
Mar 29, 2020
Hammergirl (+53.5)
GCRM vs. NYC vs. Philly vs. NYC
MahjongSoul
Mar 29, 2020
GCRM (+42.5)
RIT vs. Toronto vs. COR vs. NYC
MahjongSoul
Mar 29, 2020
RIT (+42.7)
Toronto vs. NYC vs. SEMI vs. NYC
MahjongSoul
Mar 29, 2020
Toronto (+35.5)
NYC vs. COR vs. Toronto vs. Toronto
MahjongSoul
Mar 28, 2020
NYC (+47.6)
NYC vs. NYC vs. Montréal vs. Toronto
MahjongSoul
Mar 28, 2020
NYC (+35.4)
Philly vs. NYC vs. RIT vs. GCRM
MahjongSoul
Mar 28, 2020
Philly (+38.4)
Philly vs. NYC vs. NYC vs. NYC
MahjongSoul
Mar 28, 2020
Philly (+48.0)
Philly vs. Toronto vs. Toronto vs. Philly
MahjongSoul
Mar 28, 2020
Toronto (+68.9)
NYC vs. NYC vs. PAN vs. NYC
MahjongSoul
Mar 27, 2020
NYC (+34.3)
NYC vs. NYC vs. NYC vs. Hammergirl
MahjongSoul
Mar 27, 2020
NYC (+48.3)
Toronto vs. Philly vs. Hammergirl vs. Philly
MahjongSoul
Mar 27, 2020
Toronto (+42.8)
PAN vs. Philly vs. SEMI vs. COR
MahjongSoul
Mar 27, 2020
PAN (+61.6)
Philly vs. COR vs. NYC vs. PAN
MahjongSoul
Mar 27, 2020
Philly (+41.4)
Philly vs. Hammergirl vs. SEMI vs. GCRM
MahjongSoul
Mar 27, 2020
Philly (+54.9)
Philly vs. RIT vs. Montréal vs. NYC
MahjongSoul
Mar 27, 2020
Philly (+38.3)
Philly vs. SEMI vs. GCRM vs. Hammergirl
MahjongSoul
Mar 27, 2020
Philly (+44.8)
Philly vs. PAN vs. Toronto vs. NYC
MahjongSoul
Mar 27, 2020
Philly (+47.1)
Hammergirl vs. Toronto vs. Toronto vs. Hammergirl
MahjongSoul
Mar 27, 2020
Hammergirl (+48.9)
NYC vs. COR vs. Toronto vs. Toronto
MahjongSoul
Mar 27, 2020
NYC (+47.6)
PAN vs. COR vs. NYC vs. RIT
MahjongSoul
Mar 27, 2020
PAN (+50.7)
Philly vs. Toronto vs. NYC vs. COR
MahjongSoul
Mar 27, 2020
Philly (+39.9)
COR vs. Toronto vs. PAN vs. PAN
MahjongSoul
Mar 27, 2020
COR (+45.7)
COR vs. PAN vs. IBL vs. IBL
MahjongSoul
Mar 27, 2020
COR (+33.5)
NYC vs. COR vs. COR vs. IBL
MahjongSoul
Mar 27, 2020
NYC (+39.0)
COR vs. GCRM vs. Hammergirl vs. SEMI
MahjongSoul
Mar 26, 2020
COR (+53.4)
COR vs. NYC vs. Philly vs. NYC
MahjongSoul
Mar 26, 2020
COR (+39.7)
PAN vs. Philly vs. Toronto vs. NYC
MahjongSoul
Mar 26, 2020
PAN (+43.5)
GCRM vs. Toronto vs. Toronto vs. NYC
MahjongSoul
Mar 26, 2020
GCRM (+39.2)
GCRM vs. SEMI vs. Philly vs. Toronto
MahjongSoul
Mar 26, 2020
GCRM (+55.8)
GCRM vs. SEMI vs. Philly vs. Toronto
MahjongSoul
Mar 26, 2020
GCRM (+34.1)
SEMI vs. Toronto vs. PAN vs. Toronto
MahjongSoul
Mar 26, 2020
SEMI (+62.4)
Toronto vs. GCRM vs. PAN vs. Toronto
MahjongSoul
Mar 26, 2020
Toronto (+43.9)
Toronto vs. Hammergirl vs. Toronto vs. COR
MahjongSoul
Mar 26, 2020
Toronto (+34.9)
Toronto vs. PAN vs. GCRM vs. NYC
MahjongSoul
Mar 26, 2020
Toronto (+72.9)
SEMI vs. COR vs. NYC vs. PAN
MahjongSoul
Mar 26, 2020
SEMI (+68.6)
PAN vs. IBL vs. COR vs. Toronto
MahjongSoul
Mar 26, 2020
PAN (+47.4)
GCRM vs. IBL vs. COR vs. PAN
MahjongSoul
Mar 26, 2020
GCRM (+50.9)
SEMI vs. NYC vs. Hammergirl vs. Toronto
MahjongSoul
Mar 26, 2020
Toronto (+47.5)
PAN vs. COR vs. COR vs. PAN
MahjongSoul
Mar 26, 2020
PAN (+37.5)
NYC vs. Toronto vs. Hammergirl vs. COR
MahjongSoul
Mar 25, 2020
NYC (+37.4)
Philly vs. GCRM vs. Toronto vs. Toronto
MahjongSoul
Mar 25, 2020
Philly (+33.5)
SEMI vs. GCRM vs. Toronto vs. PAN
MahjongSoul
Mar 25, 2020
SEMI (+42.5)
SEMI vs. GCRM vs. Toronto vs. Philly
MahjongSoul
Mar 25, 2020
SEMI (+40.6)
COR vs. NYC vs. PAN vs. Montréal
MahjongSoul
Mar 24, 2020
COR (+41.6)
NYC vs. COR vs. NYC vs. Philly
MahjongSoul
Mar 24, 2020
NYC (+40.7)
COR vs. NYC vs. Philly vs. Toronto
MahjongSoul
Mar 24, 2020
Philly (+46.3)
NYC vs. Toronto vs. PAN vs. COR
MahjongSoul
Mar 24, 2020
Toronto (+57.2)
NYC vs. Philly vs. NYC vs. NYC
MahjongSoul
Mar 24, 2020
NYC (+61.0)
NYC vs. COR vs. COR vs. Philly
MahjongSoul
Mar 24, 2020
NYC (+41.8)
NYC vs. Philly vs. NYC vs. NYC
MahjongSoul
Mar 24, 2020
NYC (+50.8)
COR vs. NYC vs. Lockport vs. NYC
MahjongSoul
Mar 24, 2020
COR (+53.5)
NYC vs. NYC vs. Philly vs. Toronto
MahjongSoul
Mar 23, 2020
NYC (+50.3)
NYC vs. NYC vs. GCRM vs. COR
MahjongSoul
Mar 23, 2020
NYC (+34.5)
Toronto vs. Hammergirl vs. Philly vs. NYC
MahjongSoul
Mar 23, 2020
Toronto (+46.4)
RMC vs. GCRM vs. COR vs. Montréal
MahjongSoul
Mar 23, 2020
RMC (+38.8)
NYC vs. Toronto vs. COR vs. Hammergirl
MahjongSoul
Mar 23, 2020
NYC (+46.6)
Philly vs. RMC vs. NYC vs. Toronto
MahjongSoul
Mar 23, 2020
Philly (+42.4)
NYC vs. NYC vs. COR vs. NYC
MahjongSoul
Mar 23, 2020
NYC (+60.5)
NYC vs. Toronto vs. Philly vs. Toronto
MahjongSoul
Mar 23, 2020
NYC (+89.4)
SEMI vs. NYC vs. GCRM vs. COR
MahjongSoul
Mar 23, 2020
SEMI (+41.6)
Philly vs. Toronto vs. Philly vs. COR
MahjongSoul
Mar 23, 2020
Philly (+51.4)
NYC vs. Toronto vs. COR vs. PAN
MahjongSoul
Mar 23, 2020
NYC (+38.0)
Philly vs. PAN vs. SEMI vs. NYC
MahjongSoul
Mar 23, 2020
Philly (+36.6)
RMC vs. COR vs. PAN vs. GCRM
MahjongSoul
Mar 23, 2020
RMC (+41.8)
NYC vs. Toronto vs. NYC vs. SEMI
MahjongSoul
Mar 22, 2020
NYC (+35.5)
Philly vs. Toronto vs. NYC vs. Montréal
MahjongSoul
Mar 22, 2020
Philly (+40.5)
Toronto vs. Toronto vs. COR vs. NYC
MahjongSoul
Mar 22, 2020
Toronto (+40.5)
Philly vs. Toronto vs. GCRM vs. COR
MahjongSoul
Mar 22, 2020
Philly (+64.7)
NYC vs. Toronto vs. GCRM vs. PAN
MahjongSoul
Mar 22, 2020
NYC (+47.0)
GCRM vs. NYC vs. NYC vs. Toronto
MahjongSoul
Mar 22, 2020
GCRM (+54.1)
NYC vs. NYC vs. SEMI vs. Toronto
MahjongSoul
Mar 22, 2020
Toronto (+44.1)
Philly vs. NYC vs. Toronto vs. NYC
MahjongSoul
Mar 21, 2020
Philly (+61.8)
NYC vs. Philly vs. Toronto vs. NYC
MahjongSoul
Mar 21, 2020
NYC (+45.7)
Hammergirl vs. Toronto vs. Toronto vs. PAN
MahjongSoul
Mar 21, 2020
Toronto (+46.2)
Philly vs. Toronto vs. NYC vs. Montréal
MahjongSoul
Mar 21, 2020
Philly (+40.5)
Toronto vs. NYC vs. NYC vs. NYC
MahjongSoul
Mar 21, 2020
Toronto (+59.3)
NYC vs. Toronto vs. Toronto vs. Hammergirl
MahjongSoul
Mar 21, 2020
Toronto (+73.1)
Philly vs. Hammergirl vs. RMC vs. COR
MahjongSoul
Mar 21, 2020
Philly (+40.9)
Philly vs. Toronto vs. Hammergirl vs. RMC
MahjongSoul
Mar 21, 2020
Hammergirl (+39.1)
Toronto vs. Toronto vs. NYC vs. GCRM
MahjongSoul
Mar 20, 2020
Toronto (+39.3)
Philly vs. SEMI vs. Toronto vs. NYC
MahjongSoul
Mar 20, 2020
Philly (+46.0)
NYC vs. Philly vs. Toronto vs. NYC
MahjongSoul
Mar 20, 2020
NYC (+50.0)
Montréal vs. Philly vs. RIT vs. NYC
MahjongSoul
Mar 20, 2020
Montréal (+37.8)
Toronto vs. NYC vs. NYC vs. NYC
MahjongSoul
Mar 20, 2020
Toronto (+51.3)
Philly vs. SEMI vs. Philly vs. Hammergirl
MahjongSoul
Mar 20, 2020
Philly (+50.3)
NYC vs. NYC vs. NYC vs. Philly
MahjongSoul
Mar 20, 2020
NYC (+45.5)
NYC vs. Toronto vs. Philly vs. NYC
MahjongSoul
Mar 20, 2020
NYC (+46.4)
Toronto vs. NYC vs. NYC vs. Philly
MahjongSoul
Mar 20, 2020
Toronto (+38.4)
Toronto vs. Philly vs. Toronto vs. NYC
MahjongSoul
Mar 20, 2020
Toronto (+39.2)
NYC vs. NYC vs. NYC vs. Guest
MahjongSoul
Mar 19, 2020
NYC (+40.9)
NYC vs. Philly vs. Philly vs. NYC
MahjongSoul
Mar 19, 2020
NYC (+54.0)
Toronto vs. Hammergirl vs. Toronto vs. Philly
MahjongSoul
Mar 19, 2020
Toronto (+65.9)
Toronto vs. NYC vs. NYC vs. Toronto
MahjongSoul
Mar 19, 2020
Toronto (+41.4)
Hammergirl vs. Hammergirl vs. COR vs. NYC
MahjongSoul
Mar 19, 2020
Hammergirl (+52.3)
Hammergirl vs. NYC vs. NYC vs. NYC
MahjongSoul
Mar 19, 2020
Hammergirl (+40.4)
Philly vs. NYC vs. Hammergirl vs. GCRM
MahjongSoul
Mar 18, 2020
Philly (+47.8)
Philly vs. Philly vs. NYC vs. Toronto
MahjongSoul
Mar 18, 2020
Philly (+35.9)
Philly vs. RIT vs. Toronto vs. NYC
MahjongSoul
Mar 18, 2020
Philly (+41.9)
RMC vs. Hammergirl vs. Toronto vs. Philly
MahjongSoul
Mar 18, 2020
RMC (+84.2)
NYC vs. Hammergirl vs. Philly vs. NYC
MahjongSoul
Mar 18, 2020
NYC (+46.2)
Toronto vs. Hammergirl vs. Montréal vs. Toronto
MahjongSoul
Mar 18, 2020
Toronto (+39.9)
Toronto vs. Toronto vs. RMC vs. Philly
MahjongSoul
Mar 18, 2020
Toronto (+59.1)
NYC vs. NYC vs. Montréal vs. Toronto
MahjongSoul
Mar 17, 2020
NYC (+43.6)
RMC vs. NYC vs. SEMI vs. Philly
MahjongSoul
Mar 17, 2020
RMC (+36.8)
SEMI vs. RMC vs. Toronto vs. NYC
MahjongSoul
Mar 17, 2020
SEMI (+56.5)
NYC vs. Philly vs. Toronto vs. NYC
MahjongSoul
Mar 17, 2020
NYC (+59.7)
Toronto vs. NYC vs. Toronto vs. Philly
MahjongSoul
Mar 17, 2020
Toronto (+36.2)
GCRM vs. NYC vs. NYC vs. RIT
MahjongSoul
Mar 17, 2020
GCRM (+48.7)
Philly vs. Lockport vs. SEMI vs. RMC
MahjongSoul
Mar 17, 2020
Philly (+30.9)
Philly vs. NYC vs. NYC vs. NYC
MahjongSoul
Mar 17, 2020
Philly (+34.9)
NYC vs. Toronto vs. NYC vs. NYC
MahjongSoul
Mar 16, 2020
NYC (+42.0)
Toronto vs. Lockport vs. NYC vs. NYC
MahjongSoul
Mar 16, 2020
Toronto (+51.7)
GCRM vs. Toronto vs. NYC vs. NYC
MahjongSoul
Mar 16, 2020
GCRM (+41.5)
Toronto vs. RIT vs. RMC vs. NYC
MahjongSoul
Mar 16, 2020
Toronto (+55.8)
Montréal vs. NYC vs. NYC vs. NYC
MahjongSoul
Mar 16, 2020
Montréal (+43.4)
RMC vs. Toronto vs. Hammergirl vs. NYC
MahjongSoul
Mar 16, 2020
RMC (+51.5)
Philly vs. SEMI vs. Philly vs. NYC
MahjongSoul
Mar 15, 2020
Philly (+34.7)
GCRM vs. NYC vs. SEMI vs. RIT
MahjongSoul
Mar 15, 2020
GCRM (+49.3)
GCRM vs. NYC vs. RIT vs. SEMI
MahjongSoul
Mar 15, 2020
GCRM (+55.0)
NYC vs. NYC vs. Toronto vs. Philly
MahjongSoul
Mar 15, 2020
NYC (+41.9)
Montréal vs. RIT vs. Toronto vs. RIT
MahjongSoul
Mar 15, 2020
Toronto (+41.3)
GCRM vs. RIT vs. RIT vs. NYC
MahjongSoul
Mar 15, 2020
GCRM (+51.3)
NYC vs. SEMI vs. Toronto vs. RIT
MahjongSoul
Mar 15, 2020
SEMI (+36.6)
NYC vs. RIT vs. Toronto vs. NYC
MahjongSoul
Mar 15, 2020
NYC (+40.2)
Toronto vs. RIT vs. Toronto vs. NYC
MahjongSoul
Mar 15, 2020
RIT (+46.8)
Toronto vs. RIT vs. NYC vs. GCRM
MahjongSoul
Mar 15, 2020
Toronto (+46.8)
Montréal vs. Toronto vs. RIT vs. Toronto
MahjongSoul
Mar 14, 2020
Montréal (+50.3)
NYC vs. NYC vs. GCRM vs. Toronto
MahjongSoul
Mar 14, 2020
NYC (+56.8)
NYC vs. RIT vs. SEMI vs. GCRM
MahjongSoul
Mar 14, 2020
NYC (+53.6)
RIT vs. Toronto vs. NYC vs. Toronto
MahjongSoul
Mar 13, 2020
RIT (+37.0)
Hammergirl vs. Toronto vs. NYC vs. RIT
MahjongSoul
Mar 13, 2020
Toronto (+41.5)
NYC vs. Toronto vs. Philly vs. NYC
MahjongSoul
Mar 13, 2020
NYC (+40.9)
RMC vs. SEMI vs. Philly vs. Toronto
MahjongSoul
Mar 12, 2020
RMC (+50.1)
Toronto vs. NYC vs. Toronto vs. GCRM
MahjongSoul
Mar 12, 2020
Toronto (+50.4)
Toronto vs. SEMI vs. GCRM vs. GCRM
MahjongSoul
Mar 12, 2020
Toronto (+41.8)
GCRM vs. Toronto vs. NYC vs. SEMI
MahjongSoul
Mar 12, 2020
SEMI (+49.2)
Hammergirl vs. NYC vs. NYC vs. NYC
MahjongSoul
Mar 11, 2020
Hammergirl (+63.7)
Lockport vs. SEMI vs. Toronto vs. Philly
In-Person
Mar 10, 2020
Lockport (+39.1)
NYC vs. RMC vs. Toronto vs. NYC
MahjongSoul
Mar 10, 2020
Toronto (+40.6)
Toronto vs. Philly vs. Toronto vs. GCRM
MahjongSoul
Mar 10, 2020
Toronto (+56.0)
SEMI vs. NYC vs. SEMI vs. GCRM
MahjongSoul
Mar 10, 2020
SEMI (+42.4)
RMC vs. NYC vs. SEMI vs. NYC
MahjongSoul
Mar 10, 2020
SEMI (+61.0)
Hammergirl vs. NYC vs. Philly vs. Philly
MahjongSoul
Mar 9, 2020
Hammergirl (+37.4)
GCRM vs. SEMI vs. RMC vs. NYC
MahjongSoul
Mar 9, 2020
RMC (+44.3)
Toronto vs. Philly vs. Montréal vs. NYC
MahjongSoul
Mar 9, 2020
Toronto (+43.5)
Hammergirl vs. Toronto vs. Philly vs. NYC
MahjongSoul
Mar 9, 2020
Toronto (+73.0)
RIT vs. NYC vs. RMC vs. Toronto
MahjongSoul
Mar 9, 2020
Toronto (+34.9)
Hammergirl vs. NYC vs. Toronto vs. RIT
MahjongSoul
Mar 9, 2020
Toronto (+50.9)
NYC vs. Philly vs. NYC vs. Toronto
MahjongSoul
Mar 8, 2020
Toronto (+59.9)
NYC vs. Montréal vs. Philly vs. Toronto
MahjongSoul
Mar 8, 2020
Toronto (+47.6)
Montréal vs. NYC vs. NYC vs. Philly
Tenhou
Mar 4, 2020
Montréal (+36.6)
NYC vs. Philly vs. Montréal vs. NYC
Tenhou
Mar 4, 2020
NYC (+37.3)
NYC vs. Montréal vs. Toronto vs. NYC
Tenhou
Mar 4, 2020
NYC (+43.7)
Hammergirl vs. Montréal vs. NYC vs. Philly
MahjongSoul
Mar 2, 2020
Hammergirl (+44.4)
Lockport vs. Philly vs. Toronto vs. NYC
MahjongSoul
Mar 2, 2020
Philly (+47.7)
Philly vs. Lockport vs. Lockport vs. Philly
MahjongSoul
Mar 2, 2020
Philly (+44.6)
Hammergirl vs. NYC vs. Toronto vs. Montréal
MahjongSoul
Mar 1, 2020
Hammergirl (+45.8)
NYC vs. NYC vs. Philly vs. Toronto
MahjongSoul
Feb 29, 2020
NYC (+60.5)
NYC vs. Philly vs. Toronto vs. NYC
MahjongSoul
Feb 29, 2020
NYC (+42.1)
NYC vs. Philly vs. NYC vs. Lockport
MahjongSoul
Feb 27, 2020
NYC (+34.6)
NYC vs. NYC vs. Lockport vs. Toronto
MahjongSoul
Feb 27, 2020
NYC (+102.4)
Toronto vs. NYC vs. NYC vs. Montréal
MahjongSoul
Feb 27, 2020
Toronto (+38.5)
NYC vs. Philly vs. Montréal vs. NYC
MahjongSoul
Feb 25, 2020
NYC (+54.8)
NYC vs. NYC vs. NYC vs. Philly
MahjongSoul
Feb 25, 2020
NYC (+46.7)
NYC vs. Philly vs. Hammergirl vs. Hammergirl
MahjongSoul
Feb 25, 2020
NYC (+44.1)
Philly vs. NYC vs. Toronto vs. RIT
MahjongSoul
Feb 24, 2020
Philly (+43.0)
Toronto vs. Philly vs. NYC vs. Hammergirl
MahjongSoul
Feb 24, 2020
Toronto (+42.1)
RIT vs. Montréal vs. Toronto vs. Lockport
MahjongSoul
Feb 24, 2020
RIT (+41.5)
Toronto vs. Philly vs. NYC vs. Lockport
MahjongSoul
Feb 24, 2020
Toronto (+62.3)
Philly vs. Philly vs. NYC vs. Hammergirl
MahjongSoul
Feb 24, 2020
Philly (+39.4)
Philly vs. NYC vs. NYC vs. NYC
MahjongSoul
Feb 24, 2020
Philly (+36.8)
NYC vs. NYC vs. Philly vs. NYC
MahjongSoul
Feb 24, 2020
NYC (+48.1)
NYC vs. Philly vs. Philly vs. NYC
MahjongSoul
Feb 24, 2020
NYC (+37.3)
Philly vs. NYC vs. NYC vs. Toronto
MahjongSoul
Feb 21, 2020
Philly (+34.1)
NYC vs. NYC vs. Lockport vs. Hammergirl
MahjongSoul
Feb 18, 2020
NYC (+53.5)
NYC vs. Hammergirl vs. Lockport vs. Toronto
MahjongSoul
Feb 18, 2020
NYC (+49.0)
NYC vs. RIT vs. RIT vs. Lockport
MahjongSoul
Feb 18, 2020
NYC (+50.0)
Toronto vs. Lockport vs. Toronto vs. Hammergirl
MahjongSoul
Feb 10, 2020
Toronto (+66.4)
RIT vs. Toronto vs. Montréal vs. Hammergirl
MahjongSoul
Feb 10, 2020
RIT (+34.5)
RIT vs. Philly vs. Lockport vs. Hammergirl
MahjongSoul
Feb 10, 2020
RIT (+45.7)
Lockport vs. RIT vs. Toronto vs. Philly
MahjongSoul
Feb 10, 2020
Philly (+45.6)
RIT vs. Philly vs. Philly vs. Lockport
MahjongSoul
Feb 10, 2020
Philly (+39.2)
Philly vs. Lockport vs. Hammergirl vs. RIT
MahjongSoul
Feb 10, 2020
RIT (+45.7)
Philly vs. RIT vs. Toronto vs. Philly
MahjongSoul
Feb 10, 2020
Toronto (+44.2)
Philly vs. Lockport vs. Toronto vs. RIT
MahjongSoul
Feb 10, 2020
Toronto (+58.5)
Toronto vs. Hammergirl vs. Montréal vs. Philly
MahjongSoul
Jan 27, 2020
Hammergirl (+49.5)
RIT vs. Toronto vs. Philly vs. Philly
MahjongSoul
Jan 27, 2020
RIT (+52.0)
RIT vs. Toronto vs. Philly vs. Toronto
MahjongSoul
Jan 27, 2020
Toronto (+63.9)
Toronto vs. RIT vs. Montréal vs. Toronto
MahjongSoul
Jan 27, 2020
Toronto (+49.3)
Philly vs. RIT vs. Toronto vs. Lockport
MahjongSoul
Jan 20, 2020
Philly (+52.3)
Lockport vs. RIT vs. Toronto vs. Toronto
MahjongSoul
Jan 20, 2020
Toronto (+37.3)
RIT vs. Philly vs. Toronto vs. Philly
MahjongSoul
Jan 20, 2020
Philly (+36.6)
Toronto vs. RIT vs. Toronto vs. Montréal
MahjongSoul
Jan 20, 2020
Toronto (+44.0)
Philly vs. Hammergirl vs. RIT vs. Lockport
MahjongSoul
Nov 25, 2019
Philly (+46.0)
Hammergirl vs. RIT vs. Philly vs. Lockport
MahjongSoul
Nov 25, 2019
Hammergirl (+55.1)
Philly vs. RIT vs. Lockport vs. Toronto
MahjongSoul
Nov 25, 2019
Philly (+37.8)
Toronto (+37.8)
RIT vs. Hammergirl vs. Lockport vs. Philly
MahjongSoul
Nov 25, 2019
Lockport (+38.1)
Montréal vs. Toronto vs. Philly vs. RIT
MahjongSoul
Nov 11, 2019
Montréal (+37.8)
Hammergirl vs. RIT vs. RIT vs. Toronto
MahjongSoul
Nov 11, 2019
RIT (+39.6)
Philly vs. RIT vs. RIT vs. Toronto
MahjongSoul
Nov 11, 2019
Toronto (+53.9)
Toronto vs. Hammergirl vs. Philly vs. RIT
MahjongSoul
Nov 11, 2019
Toronto (+56.8)
Montréal vs. RIT vs. Toronto vs. Philly
MahjongSoul
Oct 28, 2019
Montréal (+49.3)
Hammergirl vs. RIT vs. Toronto vs. RIT
MahjongSoul
Oct 28, 2019
Hammergirl (+52.2)
Toronto vs. Philly vs. Philly vs. RIT
MahjongSoul
Oct 28, 2019
Toronto (+40.3)
RIT vs. Toronto vs. Philly vs. Lockport
MahjongSoul
Oct 28, 2019
RIT (+41.3)
Philly vs. Montréal vs. RIT vs. Lockport
MahjongSoul
Oct 28, 2019
Philly (+63.4)
Toronto vs. Philly vs. Hammergirl vs. RIT
MahjongSoul
Oct 14, 2019
Toronto (+50.2)
RIT vs. Lockport vs. Hammergirl vs. Toronto
MahjongSoul
Oct 14, 2019
Toronto (+43.3)
RIT vs. Montréal vs. RIT vs. Hammergirl
MahjongSoul
Oct 14, 2019
RIT (+44.0)
Lockport vs. Montréal vs. Hammergirl vs. Philly
MahjongSoul
Oct 14, 2019
Lockport (+72.4)
Philly vs. Montréal vs. Lockport vs. RIT
MahjongSoul
Oct 14, 2019
Philly (+43.4)
Hammergirl vs. Toronto vs. Philly vs. Philly
MahjongSoul
Oct 7, 2019
Hammergirl (+60.6)
Hammergirl vs. Toronto vs. RIT vs. Philly
MahjongSoul
Oct 7, 2019
Philly (+52.6)
Philly vs. Toronto vs. Hammergirl vs. Philly
MahjongSoul
Sep 30, 2019
Philly (+43.4)
RIT vs. Lockport vs. Philly vs. Toronto (Reviewed!)
MahjongSoul
Sep 30, 2019
RIT (+41.7)
Hammergirl vs. Toronto vs. Hammergirl vs. Toronto
MahjongSoul
Aug 26, 2019
Toronto (+49.3)
Toronto vs. Toronto vs. Hammergirl vs. Hammergirl
MahjongSoul
Aug 26, 2019
Hammergirl (+52.7)
RIT vs. Hammergirl vs. Lockport vs. Toronto
MahjongSoul
Aug 19, 2019
Toronto (+41.9)
Toronto vs. RIT vs. Hammergirl vs. Lockport
MahjongSoul
Aug 19, 2019
Toronto (+45.7)
Toronto vs. Hammergirl vs. Toronto vs. Hammergirl
MahjongSoul
Aug 12, 2019
Toronto (+42.7)
Hammergirl vs. Toronto vs. Lockport vs. Toronto
MahjongSoul
Aug 12, 2019
Toronto (+43.9)
Toronto vs. Lockport vs. Hammergirl vs. RIT
MahjongSoul
Aug 12, 2019
Lockport (+38.4)
RIT vs. RIT vs. Hammergirl vs. Toronto
MahjongSoul
Aug 12, 2019
Toronto (+53.9)
Lockport vs. RIT vs. Toronto vs. Hammergirl
MahjongSoul
Aug 5, 2019
Lockport (+53.3)
Hammergirl vs. Lockport vs. Toronto vs. RIT
MahjongSoul
Aug 5, 2019
Hammergirl (+39.8)
RIT vs. Toronto vs. Lockport vs. Hammergirl
MahjongSoul
Aug 5, 2019
Lockport (+44.7)
League Rules
- 9 pm Eastern, 2nd and 4th Mondays
- 30k start, negative score ends game
- East-South single-game matches
- 30/10 uma
- No red fives
- Standard Mahjong Soul rules (open tanyao, 1-han min, multiron, double yakuman)
- Monthly score reset
- Games are in-person, Mahjong Soul, Tenhou depending on situation
- Random matchmaking by team and player, those who haven't played yet get priority
- Newcomers are welcome, scores don't matter. Do your best, we all get better every day
- To enter your club, contact RiichiOut